A non invasive treatment for vaginal dryness and discomfort, urinary leakage, vaginal laxity, painful intercourse and frequent UTI.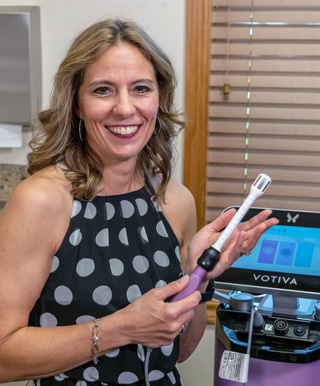 Votiva with FormaV is a procedure based on FDA-cleared technologies for the treatment of sexual dysfunction caused by aging or childbirth or as an adjunct to Kegel exercises (tightening of the muscles of the pelvic floor to increase muscle tone) to treat urinary incontinence. Radiofrequency energy is used to gently heat the tissue and cause remodeling of the connective tissue and improve elasticity of the vaginal skin.
This is a great treatment for patients who are bothered by minor to moderate symptoms that are not significant enough to require surgery. After individualized initial evaluation, optimal benefit is obtained after three treatments performed in the privacy and comfort of our office. Annual treatments may be necessary after that to retain the benefits since the skin continues to age and change. Please call the office for initial evaluation appointment to see if this procedure is right for you.
Painful intercourse and urinary incontinence are very private matters. We now have a discrete treatment that does not require surgery or messy medication.
Please check out this short video.